Details for your area
At this time, we are asking new customers in our expansion areas to fill out a quick form with their contact information, and permission to bury fiber to their homes. Click the tab of your area for the correct form for your home or property.

Building throughout the city
If you live in the Mauston city limits, your internet is about to level up! We aren't quite ready to schedule installations, but we'd still like to have you fill out this form if you are interested in our service. This will help us put in services as efficiently as possible.

City of Mauston Form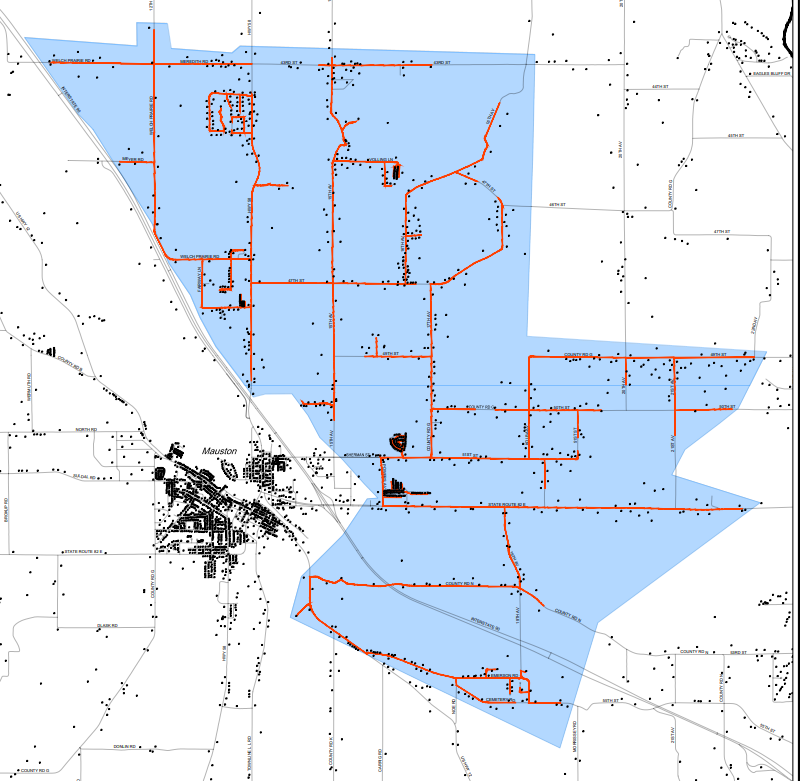 Is your address in our new area?
The townships of Lisbon and Lemonweir were a part of a grant where an area was layed out based on some variables. Unfortunately, we are not able to cover the townships in their entirety in the first round of construction. Please take a look at the map here, and watch for pieces of mail from us to confirm availabiltiy. If you are in the indicated area, please take a moment to fill out the form to give us permission to bury fiber to your home.
Township Forms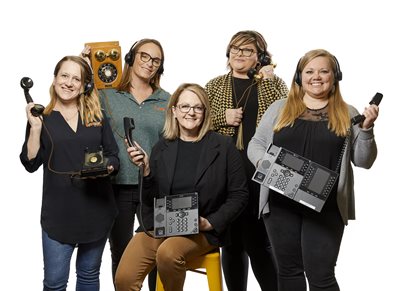 Building throughout the Village
Construction is starting this spring, so we aren't ready to get you installed quite yet. In the mean time, we'd still like to have you fill out the form with your contact information and permission to bury fiber to your home/property.
West Salem Form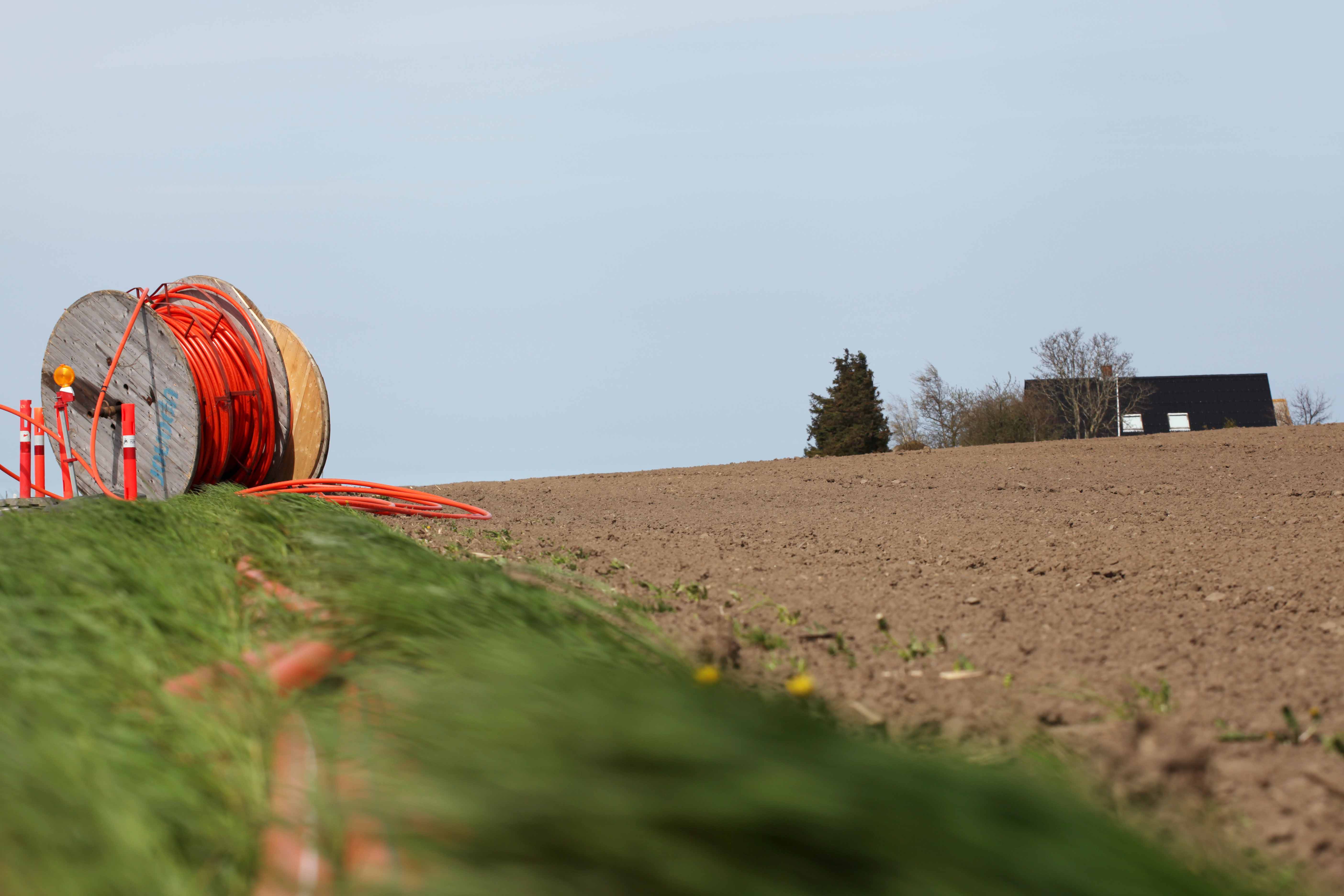 Nope! But it's still a good idea to get the drop.
Every home in the City of Mauston and grant areas can get a drop (the fiber buried to the home) at no charge during this build. Even if you don't plan to take our service, you really should allow the service to be buried to your home, and here's why:
You will add value to your home with a fiber connection.
If you don't take the drop now, but ask for one later, it will cost upwards of $500 to get the service.
Apply today!
Great Service!
---
"GREAT service! I talk to many people who have other internet companies, and all I hear is complaints. Too bad they are not in the Lynxx area--they would have practically NO problems!"
- Lucille Mentzel, Residential Customer
Love Gig Speed
---
"I love the 1GB speed. I am able to have multiple game consoles, smart tv's and cellphones being used all at the same time! With 2 teenagers in the house, this is a must! When covid hit, I had a different service provider. Covid home schooling was SO frustrating. I have had Charter and CenturyLink in the past. Neither company compares to Lynxx. Thank you Lynnx for providing such great service at an affordable price!"
- Kamra Duncan, Residential Customer
Never Any Issue
---
"It's been great! Never any issue connecting and never any issues with keeping up with everyone in the household."
- Danielle Berndsen, Residential Customer
Fastest Service
---
"Fastest service, by far... and not only the internet speed, but installation was extremely quick! We can have 4 televisions streaming and are still able to use gaming systems without any glitches! Love it!
- Adam Willhoite, Residential Customer
Customer Service that's Second to None
---
"Fiber optic internet though Lynxx Networks is amazing, and the customer service is second to none."
- Diane Schroeder, Residential Customer
Fast and Reliable
---
"Fast AND Reliable Internet! We stream everything and never a problem!"
- Sarah Stark, Residential Customer
Lynxx Cares
---
"Lynxx cares about the reliability of their service and taking care of their customers!!!"
- Jen Pedersen, Residential Customer
Reliable
---
"Lynxx is reliable. Through years of service I've always had great signals and amazing customer service which seems to be the most common complaint of other companies in the area."
- Amy Hoogstra, Residential Customer
Absolutely the Best
---
"Absolutely the best internet, tv and phone in the area. My mistake was staying with a competitor far too long. Once I changed to Lynxx I knew I would never stray. Their office sign says, "Thank you for allowing us to serve you," and Lynxx means it!!!!"
- Delores Meyers, Residential Customer
Amazing Customer Service
---
"Amazing customer service! We are so lucky to have Lynxx in our neighborhood! Internet companies elsewhere in the area are far inferior to everything Lynxx provides."
- Mike Stoughtenger, Residential Customer
Supreme
---
"The dictionary defines superlative as: of the highest kind, quality, or order, surpassing all else, or others; supreme. I define it as Lynxx Networks. As an internet service provider, a community member, a business, and as people, they are of the highest kind, quality, and order; supreme."
- Samantha Jo, Residential Customer
Easy to Contact
---
"I appreciate that Lynxx is always easy to contact and get results!"
- Nancy Faulkner, Residential Customer
So Much Better Than Satellite
---
"We love our Lynxx TV! It is so much better than satellite. We also have phone and internet service from Lynxx. It is very reliable and the customer service is great!"
- Pat Stubbs, Residential Customer
Lynxx Treats You Like Family
---
"Love the customer service and the way they treat you like family."
- Brad Bever, Residential Customer
Grade A
---
"TV is great; zero down time and service is also grade A."
- Duane Stickney, Residential Customer
Top Notch
---
"Great services and the customer service is top notch."
- Sherry Gibbons, Residential Customer
Very Knowledgeable
---
"Customer service is great. Fast and reliable. Very knowledgeable."
- Kevin Simpson, Residential Customer
On the Leading Edge
---
"I love that Lynx makes the effort to be on the leading edge of technology combined with amazing, personal and reliable service - company-wide!"
- Kristie Bunker, Residential Customer
Reliable Managed Wi-Fi Service
---
"Our Managed Wi-Fi Service is very reliable. We have had past issues with other carriers where the Wi-Fi was spotty or cut out. This is not the case with LYNXX. Streaming television services through the Wi-Fi is also easy."
- Krista Kobleska, Residential Customer
10+ Stars
---
"If you could rate Lynxx by stars it would be a 10+. The customer service is outstanding, and the techs are the best!!!"
- Tammy Brockman, Residential Customer
The BEST Internet Service
---
"This is the BEST internet service we have ever had. Great pricing, great customer service, and great coverage."
- Dawn Faas, Residential Customer
Excellent Customer Service
---
"Excellent customer service; they always make me feel important to them!"
- Karen Elsing, Residential Customer