Get the Areas Fastest Fiber Internet
400,000+ Miles of Fiber
Lynxx Networks partners with WIN Technology, which covers multiple states and connects with similar providers that fall under a co-ownership model. This enables us to expand our fiber-optic footprint so we can supply services to customers in different geographic areas. WIN Technology also partners with INDATEL, which expands Lynxx Networks' footprint even farther, meaning we can provide services to customers across the United States.
View map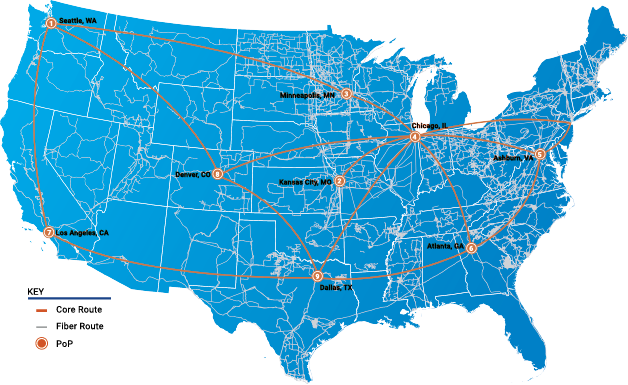 More Business Solutions
The Lynxx Networks family of businesses makes for a comprehesive approach. Customers can execute a complete technology plan for their business to include: fiber internet, managed IT services, structured cabling, electrical and surveillance.
No Outages
---
"The most consistent service we have! I am in charge of nine retail locations and where Lynxx is available, I have not had an outage."
Matt Kamla, Director - Cell Plus II
The Easiest to Work With
---
"Lynxx has always been the easiest to work with to get the correct service that our business has needed. There have been so few problems, and if there have been, the speed at which it's addressed and corrected is something I have never experienced with any other telecommunication company."
Seth Tully, Owner - Northwoods Orchard & Farm Market
Increased Production
---
"Having Lynxx Networks Internet has increased our production because we have symmetrical upload and download speeds. We do a lot of upload and are more productive thanks to Lynxx because we aren't sitting and waiting. Outages were happening constantly with other providers, but with Lynxx, we just don't have issues with the Internet being down. (The ability to be) more efficient is huge for us."
Brenden Kehren, CEO - Kehren Development
Fast and Reliable
---
"Fast AND Reliable Internet! We stream everything and never a problem!"
- Sarah Stark, Residential Customer
Great Service at a Great Price
---
"Great service at a great price. Very fast service at an affordable price. The guys who did the fiber line to the office did a professional job; highly recommend."
Jake Buisman, President - Outdoor Services
Excellent Service and Support
---
"Excellent service and support. I highly recommend Lynxx."
Robert Demeuse, Director of Technology - Mauston School District
Zero Issues & Great Internet Service
---
"The service with Lynxx is great...we had all sorts of issues with our previous internet provider, so we reached out to Lynxx and have had zero issues and the internet service is great! I would highly recommend reaching out to Chris, he was great to work with!! :)
Jamie Raiten, Administrative Assistant - Kickapoo Roofing
10+ Stars
---
"If you could rate Lynxx by stars it would be a 10+. The customer service is outstanding, and the techs are the best!!!"
- Tammy Brockman, Residential Customer
The Most Reliable Internet Provider We've Utilized
---
"Lynxx Networks has provided a good, dependable phone and internet service that has proven to be crucial for operating our Emergency Medical Service. Their customer service is top-notch. I've personally had to contact Lynxx for support and you get a real person on the phone immediately - no phone tree. They listen to my concerns and offer support right away. In our line of business, this is important. In the past we've dealt with providers that don't seem to understand the importance of a public service entity that needs attention and fast-tracked solutions. Lynxx Networks has proven to be the fastest, most reliable internet provider that we've utilized."
Chris Leopold, Director - Mauston Area Ambulance Association
Productivity has Doubled!
---
"Prior to switching to Lynxx our Clinic was unable to obtain high speed internet service through our old carrier. Thanks to Lynxx our productivity has doubled!"
Kelly Murray, Office Manager - Tomah Vet Clinic
Well Positioned for Future Expansion
---
"Our company has three locations all utilizing continuous, real-time data. The upload and download band width, which is carried on fiber optic cable to our stores, far exceeds our demand, and without a doubt, positions us well for future expansion. This was not the case with our previous provider. I just realized that we take Lynxx service for granted because we don't think about it, (and) because we don't have issues; not thinking about it is a good thing."
Brian Buswell, Owner - All American Do It Center
Excellent Customer Service
---
"Excellent customer service; they always make me feel important to them!"
- Karen Elsing, Residential Customer
Better Service, Connectivity, & More Options than Ever Before
---
Prior to getting Lynxx, because of our location, we weren't getting the upload and download speeds we were paying for. Since switching to Lynxx, not only can we live-stream our services without interruption, but we were able to upgrade our equipment, increase our reach, and take our online services to a whole new level.
Lynxx has been excellent to work with through the installation and transition. We are so impressed and happy with their service that we have since switched our phone system to them as well. We are getting better customer service, better connectivity, and more options than ever. Thank you Lynxx!
Lori Blair - Faith Chrisitan Church
Great Service at a Great Rate
---
"Lynxx internet service is the best around. They offer great speeds at an affordable monthly rate. Internet outages are extremely rare with Lynxx. When operating a business in today's tech-savvy world, reliable internet is a must. We hear other businesses having internet outages/issues with other providers, and we are thankful we have Lynxx's excellent service. Lynxx offers great service at a great rate."
Jeremy Weber, General Manager - Kenrich Foods Corporation
Everything Works Smoothly
---
"Everything works smoothly. We have had very few issues, but it's great to call customer service and get someone local when we do!"
Leigh Bardeen, Vice President - Transport Systems, LLC
Great Speeds
---
"Our Internet service has great speeds and has had very few interruptions."
Jessica Hartje - Custofoam Corporation
Uninterrupted, High-Quality Internet
---
"Lynxx has always been great to work with. This is the most friendly and supportive group of business people we have had the pleasure to work with. They provide uninterrupted, high-quality internet at an astonishingly affordable rate. We are blessed to have them as our internet service provider."
Edward Grygleski, President - Valley Corporation
Service that's Second to None
---
"We have been using Lynxx Internet for years, and the service is second to none! We use their fiber Internet and have had great performance and reliability. We have been extremely happy with the services provided, and their professionalism of their staff is great. We just recently switched over to their hosted phone services as well, and that has been a similar experience. We are receiving excellent phone service at better rates than we had with our previous provider. We would recommend Lynxx to anyone looking for high quality internet or hosted phone services."
Jon Simonds, Director of Information Technology - Mathews Archery, Inc.
The BEST Internet Service
---
"This is the BEST internet service we have ever had. Great pricing, great customer service, and great coverage."
- Dawn Faas, Residential Customer
Always Willing to Help
---
"I have never had any issues with the services I receive from Lynxx. Their internet service is fast, their employees are very knowledgeable and if I have any questions or need any help, they are always willing to help answer my questions and respond quickly to service requests. I highly recommend them!"
Terese Barth, General Manager - Camp Douglas Farmer's Co-op
Just a Phone Call Away
---
"Lynxx has been our primary ISP for several years and our experience with the company was a big part of why we decided to go with Lynxx hosted voice. I like the ease of the conference call feature - we did not have that ability before; the voicemail to e-mail feature; and that (you can send messages) to groups rather than just one person. But, a phone is still a phone; what you get with Lynxx is personalized and reliable service. I personally like the ease of getting assistance with the system. They are a phone call away and you don't have to spend 5 minutes trying to even speak to a person like the other phone companies."
Jayme Altman, VP of Accounting - TACU
Great Service! 5 Stars
---
"Great Service! 5 Stars."
Kristi Holthaus, Owner - Holthaus Insurance
Never Looked Outside of Lynxx
---
"We've never looked outside of Lynxx. The internet-based phone system (we have) works awesome for us; all the innovations that Lynxx is doing are helping us. The speed of internet – that's how our business is done. We're doing business all over the world and we have to be able to have communication, and that's where Lynxx plays a huge role for us."
Brian Slater, CEO - Mill Haven Foods
Never Any Issue
---
"It's been great! Never any issue connecting and never any issues with keeping up with everyone in the household."
- Danielle Berndsen, Residential Customer
State-of-the-Art Fiber Optic
---
"When we upgraded our computer system to all-digital imaging and storing, the company we were working with gave us the (requirements) for fiber optic information transfer, and the two competing companies (in the area) could not offer us the level and the speed of fiber optic-quality, as well as the ability for expansion down the road that Lynxx Networks could offer us. Within 24 hours of calling (Lynxx Networks), a representative came, evaluated what we had, put together a package, and the contract was done. Lynxx Networks doesn't have out-outdated links in their network; it's all state-of-the-art fiber optic."
Dr. B. Scott Nicol, DDS - Tomah Family Dentistry
Customer Service that's Second to None
---
"Fiber optic internet though Lynxx Networks is amazing, and the customer service is second to none."
- Diane Schroeder, Residential Customer
Professional and Curtious
---
"Kudos to Al, Bryce and Clint for all the work they did; not only did they install the network in a seamless manner, but they were also very professional and curtious. They answered the questions we had here at the church and saved us a lot of money because they went around and did an inventory of the hardware that we had and utilized so much of the equipment we already had, which saved us money buying equipment that we didn't need. I wanted to thank you and your your team for getting us up and running with much better internet than what we had."
Pastor George - Bible Baptist Church
Amazing Customer Service
---
"Amazing customer service! We are so lucky to have Lynxx in our neighborhood! Internet companies elsewhere in the area are far inferior to everything Lynxx provides."
- Mike Stoughtenger, Residential Customer
Reliable Managed Wi-Fi Service
---
"Our Managed Wi-Fi Service is very reliable. We have had past issues with other carriers where the Wi-Fi was spotty or cut out. This is not the case with LYNXX. Streaming television services through the Wi-Fi is also easy."
- Krista Kobleska, Residential Customer
Reliable
---
"Lynxx is reliable. Through years of service I've always had great signals and amazing customer service which seems to be the most common complaint of other companies in the area."
- Amy Hoogstra, Residential Customer
Outstanding Internet and Phone Services
---
"Lynxx provides outstanding internet and phone services. We have used many different ISP's over the years, and none of them have ever provided what they advertised, except Lynxx. I would highly recommend them."
Joshua Abbott, Technical Director - New Life Assembly of God
Love Gig Speed
---
"I love the 1GB speed. I am able to have multiple game consoles, smart tv's and cellphones being used all at the same time! With 2 teenagers in the house, this is a must! When covid hit, I had a different service provider. Covid home schooling was SO frustrating. I have had Charter and CenturyLink in the past. Neither company compares to Lynxx. Thank you Lynnx for providing such great service at an affordable price!"
- Kamra Duncan, Residential Customer
Billing that's Clear, Concise, and Transparent
---
"Lynxx is a key partner for the success of our business! The billing is clear, concise, and transparent. Our internet speeds are faster and more reliable than our experiences with prior services. In the unusual occasion that we do have to call, we speak to a REAL person from our community in a matter of seconds. Both Lynxx's customer service and internet quality have exceeded our expectations. It's one less thing we have to worry about as a small business and we're so pleased we made the switch to Lynxx."
Angie Frost, Owner - EverFit
Easy to Contact
---
"I appreciate that Lynxx is always easy to contact and get results!"
- Nancy Faulkner, Residential Customer
A Very Important Service
---
"We are happy with the service. We've had no issues like we had with past providers, and if there were to be an issue, it doesn't take long for someone to resolve the problem. (Lynxx provides) a very important service."
Terrie Nuttall, President - True Value, Mauston
Supreme
---
"The dictionary defines superlative as: of the highest kind, quality, or order, surpassing all else, or others; supreme. I define it as Lynxx Networks. As an internet service provider, a community member, a business, and as people, they are of the highest kind, quality, and order; supreme."
- Samantha Jo, Residential Customer
Top Notch
---
"Great services and the customer service is top notch."
- Sherry Gibbons, Residential Customer
A Family-Oriented Business
---
"Lynxx is a very family-oriented business. I liken Lynxx to the Culvers of cable providers. With a year like 2020 where you really don't know what's going to happen next, it was a relief to know that any issues or questions I had about our Lynxx service were literally just a phone call away. That may seem pretty basic, but other providers have proven to be very hands-off, and frankly hard to reach, when it comes to customer service. Lynxx is easy to contact and responds as quickly as possible to help us when we need the help."
Ryan Laylan, Owner - Culver's of Tomah
The "Ferrari" of Internet Service
---
"We now have speed-of-light internet service that is very useful processing hundreds of insurance claims each week. Lynxx makes doing business seamless in the internet age. I would highly recommend (Lynxx Networks) for business owners – (you'll be) making the switch to the "Ferrari" of internet service."
Dr. Jairus Houston, DDS - Houston Dental Clinic
5 Stars
---
"5 Stars"
David Reel, Owner - Reel Brothers Harley Davidson
So Much Better Than Satellite
---
"We love our Lynxx TV! It is so much better than satellite. We also have phone and internet service from Lynxx. It is very reliable and the customer service is great!"
- Pat Stubbs, Residential Customer
Fast and Fantastic
---
"We love our internet and phone service from Lynxx! The internet service supports well over 50 users at a time and we have never had a problem with our service. It is fast and fantastic! We have had our phone service for about a year-and-a-half with no lost service. The quality is great! But what we like most about Lynxx is the customer service. They are very prompt about responding to our inquiries and will do what it takes to meet our needs. I love that when you call, you talk to a live person! Thank you!!"
Jennifer Laursen, Parish Secretary - St. Patrick Parish & School, Mauston
Better Service Than Other Providers
---
"Lynxx Networks Internet is fast and reliable. In the years that I've worked for the Village of Oakdale, the service has never gone down. One of the other advantages of Lynxx Networks is, being a local company, we personally know some of the employees. The last time we called, we got a return call in five minutes and within 15 minutes, a tech was here. Lynxx offers better service than other providers."
Brenda Bradley, Clerk - Village of Oakdale
Great Knowledge and Sincere Respect for their Customers
---
"The City of New Lisbon and Lynxx Networks have had a business relationship for many decades. Lynxx Networks provides services to all of the City of New Lisbon buildings. The partnership has extended from the billing services to the infrastructure of new technology. The professionalism seen throughout their company embodies great knowledge and sincere respect for their customers. Beyond the business aspect, the New Lisbon community has benefited tremendously from the thousands of dollars that Lynxx Networks has contributed to worthy causes in the area. Our little community is very lucky to have a business that gives back to their community in grand ways."
Lisa Vinz, Clerk - The City of New Lisbon
Beyond our Expectations
---
"Lynxx Network provides our local government with the service we need to keep connected at all times. Availability and keeping connected is crucial to our Fire and Public Works departments. We applaud Lynxx Network for the uninterrupted services they offer. Every aspect of their services - from technical to customer support - goes beyond our expectations."
Sarah Stark Clerk - Village of Camp Douglas
So Happy We Made the Switch to Lynxx
---
"To say they put customers first is an understatement! Whenever I contact them with a question or issue they are prompt in their response and quick to find a solution. I am so happy that we made the switch to Lynxx!"
Clare K, Office Administrator - St. Patrick Parish & School, Sparta
Extremely Satisfied with the Reliability & Performance
---
"We have had Lynxx fiber for over 4 years. We have been extremely satisfied with the reliability as well as the performance. We have only had 1 or 2 brief (less than 30 minutes) interruptions in those 4 years which may not have even been their issue. I highly recommend Lynxx!"
Jeremy Miller - Brickl Bros.
Our Internet-Related Issues Are Now Gone!
---
"We're so glad Lynxx finally came to our area! It's so much faster than our previous supplier! Ever since putting Lynxx in, all of our internet-related issues are now gone!"
Jason Lubinski, Owner - Carquest of Mauston
No Disruptions in Service
---
"The speed of Lynxx internet service far exceeds that of our previous provider's. We have always had a "back-up" provider in case our previous provider went down. We are considering dropping that "back-up" provider, as we have not had any disruptions with Lynxx. Also, it is great for me to be able to call somebody local that can address my concerns, versus the previous large provider which was impossible to get through to."
Greg Gruber, Controller - Kudick Chevrolet Buick – Mauston
Capabilities Far Beyond Previous Provider
---
"We are very happy with our new phone system and the team that set it up. This new system offers capabilities far beyond what our previous phones offered, which is especially important when it comes to fall fundraisers and call-in giveaways. Thank you for providing such great products and services."
Prayz Network Staff - Prayz Network
Very Knowledgeable
---
"Customer service is great. Fast and reliable. Very knowledgeable."
- Kevin Simpson, Residential Customer
Switched From One of the Big Companies and Couldn't Be Happier
---
"We have switched over from one of the big national companies and couldn't be happier. Lynxx Networks goes above and beyond, and it is apparent that they truly want to provide the best service for their customers. On top of that, I love supporting a local business that cares about our community. My only regret is not switching sooner!"
Kyle Boland, Co-founder - Coulee Health
No Problems
---
"We have had no problems with our service, internet, or customer service."
Jennifer Ferries - Concrete Solutions
No Interruptions in Service
---
"Our organization is very pleased with the service that we now receive from your company. Previously our internet service was terrible and we could not function as a business should, but after starting your service we are able to view our training programs and we have not had any interruptions in our service. Would highly recommend Lynxx Networks!"
Mike Lee, Manager - Exit 48 Truck Repair
Grade A
---
"TV is great; zero down time and service is also grade A."
- Duane Stickney, Residential Customer
Exceptional Phone and Internet Services
---
"I have been extremely happy with Lynxx since making the switch away from Century Link. Internet down time can be crippling to health care facilities because of the mandate to use electronic health records. I used to deal with no internet connection multiple times a month before making the switch. Now, the Lynxx network's fiber optic speed and reliability gives me the confidence to know that when I show up to work I won't have to spend time dealing with connectivity issues. In the rare instances when I do need to call Lynxx about my account, a local person answers the phone. There is no automated phone tree to deal with! Thank you Lynxx, for providing exceptional phone and internet services!"
Adam Bubnich, Owner - Bubnich Chiropractic Clinic
Lynxx Treats You Like Family
---
"Love the customer service and the way they treat you like family."
- Brad Bever, Residential Customer
Fast and Reliable Service!!
---
"Fast and reliable service!!! Recommend to everyone!"
Christina Graves, Office Manager - Sparta Dental Center
Lynxx Cares
---
"Lynxx cares about the reliability of their service and taking care of their customers!!!"
- Jen Pedersen, Residential Customer
Recommend to Everyone
---
"From the inception of getting your service, everything has been great. We had a couple of issues early on and the customer service staff was quick and efficient in resolving the issues. I would recommend Lynxx to everyone; great service."
Stephen Litsheim, President - Midwest Tile Works
Vital For Us
---
"Lynxx has been vital to our business continuing to grow and to function on a day-to-day basis. We have 25 staff and three office locations, and we're spread out between our offices and working remotely, so we are completely dependent on good internet service. We're doing a lot of virtual tours with customers; we have zoom calls with customers; Lynxx internet has been vital for us – its amazing service."
Bobbi Brandt, Broker - Castle Rock Realty
On the Leading Edge
---
"I love that Lynx makes the effort to be on the leading edge of technology combined with amazing, personal and reliable service - company-wide!"
- Kristie Bunker, Residential Customer
Glad We Made the Switch
---
"As a bank, we need to be up and running at all times to provide to our customers and staff. With the Lynxx internet services, our speeds are much faster and more reliable than the experiences we have had with other providers. We were having outages with our other providers often, but with Lynxx we don't have issues with outages. We are glad we made the change to Lynxx!"
Jane Leis, CEO - Union State Bank
Incredible Upload and Download Speeds
---
"The Lynxx fiber-optic, high-speed internet is extremely reliable. We have not experienced any interruptions in our internet service since becoming a customer in February of 2018. Daily, our police department handles large data files from the police squad car videos to the body cameras. The upload and download speeds of Lynxx internet service are incredible, and have saved an enormous amount of time and effort for our police department. The Village police department, public works, water utility, sewer utility, and administration departments have a shared network, and Lynxx Networks has significantly contributed to the success of this system. I highly recommend Lynxx for business internet needs!"
Teresa L. DeLong, Village Administrator - The Village of West Salem
Fastest Service
---
"Fastest service, by far... and not only the internet speed, but installation was extremely quick! We can have 4 televisions streaming and are still able to use gaming systems without any glitches! Love it!
- Adam Willhoite, Residential Customer
A Great Benefit to Our Business
---
"The quality of our phone system and internet are very good. If something does happen, Lynxx staff are here quick and the staff are very friendly and knowledgeable. We appreciate how quick they are to help. Overall, Lynxx has been a great benefit to our business."
Courtney Cameron, Sales & Finance - Pleasureland RV Center
Extremely Happy with the Quality of Service
---
"When we moved to our new location, we had an opportunity to change providers. We chose Lynxx because of the high-speed Internet and the phone capabilities all in one package. We have been extremely happy with not only the quality of the service, but also the customer service. Whenever we've had an issue - which has only been once - they were right there. We would highly recommend Lynxx Networks."
Eileen Fossum, Credit Manager - Contractor Supply
Absolutely the Best
---
"Absolutely the best internet, tv and phone in the area. My mistake was staying with a competitor far too long. Once I changed to Lynxx I knew I would never stray. Their office sign says, "Thank you for allowing us to serve you," and Lynxx means it!!!!"
- Delores Meyers, Residential Customer
No More Disruptive Outages
---
"Our company switched over to Lynxx Networks from a different provider. With Lynxx, we no longer have to deal with disruptive outages and we saved significantly on our monthly charges. They made sure everything in our office was set up for e-mail, fax, phone, and voice mail. We are so glad we made the switch!"
Jonathan Walker, President/Owner - Walker Construction
Rock Solid with Zero Outages
---
"Our company is a commercial printer and newspaper publisher. The internet and phone services are a crucial part of our business. We had been using several other services and had continuous outages and down time. When this happens our company almost comes to a stand-still, shutting down vital parts of our operation. Since we switched to Lynxx internet and phone services with fiber optic we have been rock solid since installation with zero outages. There is just no comparison to the other services out there. Also, the staff at Lynxx made our transition so easy and the staff went out of their way to make sure we had everything we needed. If you have the opportunity to switch to Lynxx services, we here at Evans Print & Media group highly recommend their services."
Wayne Butterfield, Production Manager - Evans Printing
Nothing Compares
---
"We had a storm that fried our phone system... our credit card machines were down... we had nothing. I called Lynxx and they had a technician over here that day and we were up and running with phone and Internet. The experience with Lynxx has been amazing – we love it. We have had Charter and Century Link and nothing compares with what we are getting now in terms of both speed and service. I highly recommend Lynxx."
Mark Rose, Owner - Tomah Cash Store
Blazing Fast Internet
---
"Internet speed is blazing fast with no interruptions. The phone service works as it should with zero problems."
Eric Arneson, Owner - Gear Drive Performance
Friendly and Great to Work With
---
"Lynxx Networks is always quick with their response time when there is an issue. All of their employees are friendly and great to work with!!"
Jared Roeker - American Family Insurance
Great Service!
---
"GREAT service! I talk to many people who have other internet companies, and all I hear is complaints. Too bad they are not in the Lynxx area--they would have practically NO problems!"
- Lucille Mentzel, Residential Customer
Let's connect. Speak with a sales representative today.