Newsletter | Summer 2022 Residential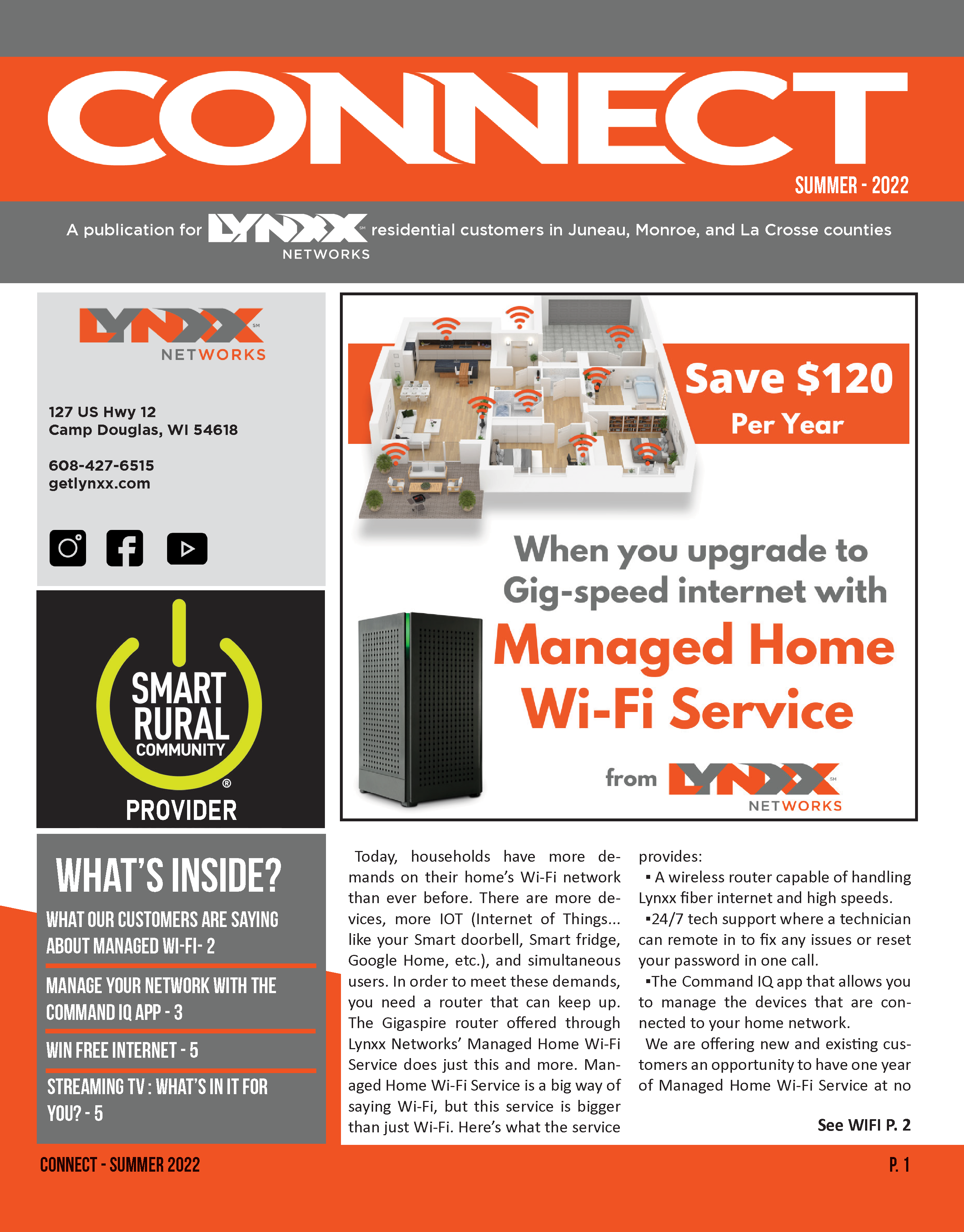 SUMMER 2022 RESIDENTIAL
IN THIS ISSUE:
UPGRADE TO GIG SPEED WITH
MANAGED HOME WIFI
Upgrade to Gig-speed internet and we'll give you a year of our Managed Wi-Fi service at no cost. What is Managed Wi-Fi Service? It's a Lynxx Neworks-provided router with lots of perks. Read below to find out what's included in Managed Wi-Fi Service and what some of our customers think of the service.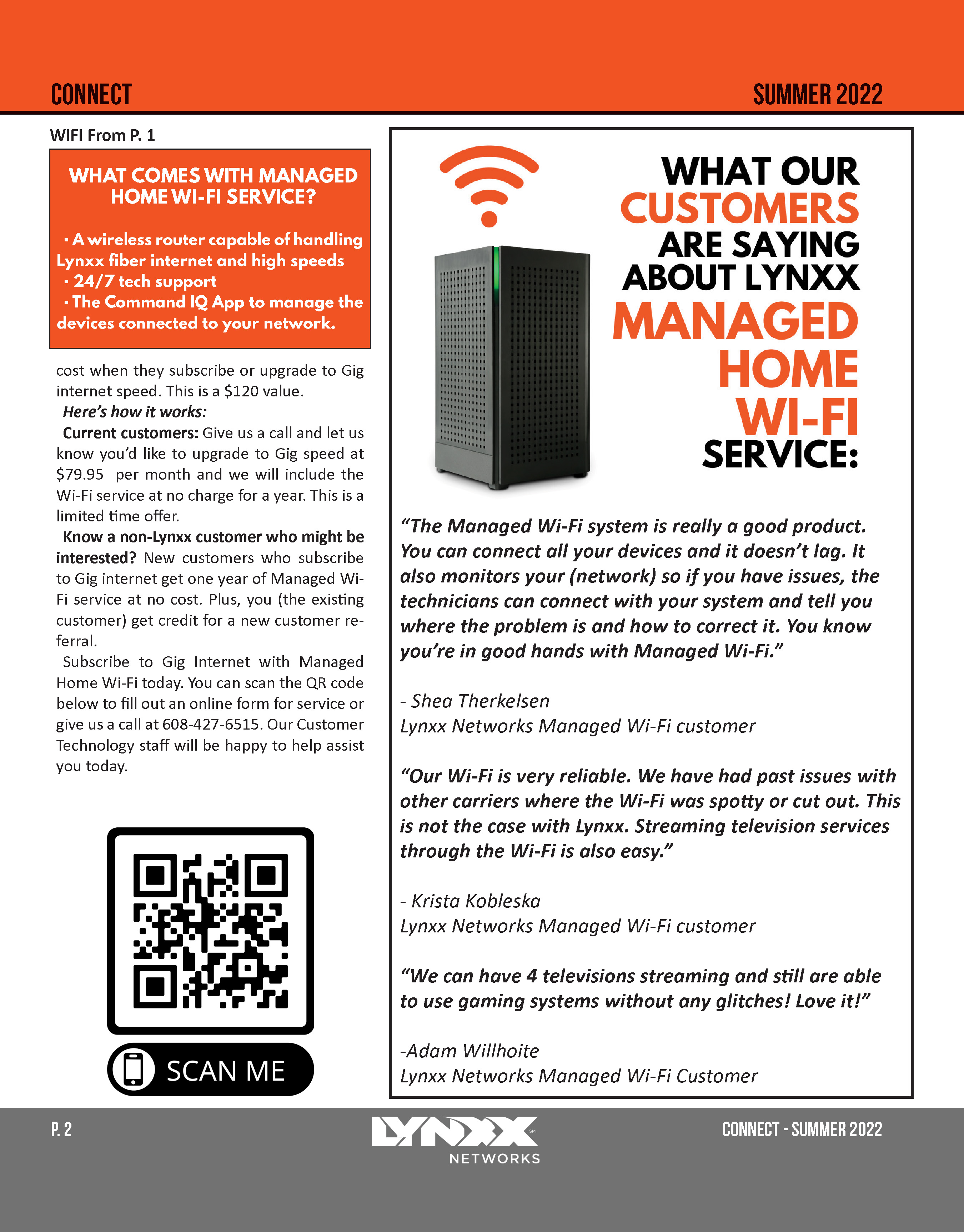 MANAGE YOUR HOME WIFI NETWORK
WITH THE COMMAND IQ APP
The Command IQ App comes standard with our Managed Wi-Fi Service. With a simple app download on your phone or tablet, the happenings on your home network are at your fingertips. You can monitor what devices are connected and when; set up a guest network; create profiles for each user; set device limits; turn the internet on and off to certain devices at certain times, and more. Plus, if you need instructions for how to get your Command IQ app set up, we have some that we can send you, or give us a call and one of our technicians can help walk you through the process.
WIN A MONTH OF FREE INTERNET
Here's how:
1. Get your free Lynxx Networks bottle stickers or magnets. You can pick these up from our Camp Douglas office; the Village of Camp Douglas; the New Lisbon Chamber of Commerce; the Tomah & Sparta Area Chambers; and the Avant-Garde Oil Enthusiast and Health Motivator in Camp Douglas.
2. Take a photo. Take a picture and get your Lynxx bottle stickers or magnets in the photo.
3. Post that photo to social media. Don't forget to use the hashtags #gigspeed and #getlynxx so we can find your post. You can also e-mail your photo to us at marketing@getlynxx.com. When we see your post or e-mail, we'll enter you into a weekly drawing for a month of free internet.
It's that easy! And, once you're entered, we keep your name entered in our drawing until you win, thereby increasing your odds of getting that month of free service.
(see our example post to the right)
Try it yourself with a social post like this: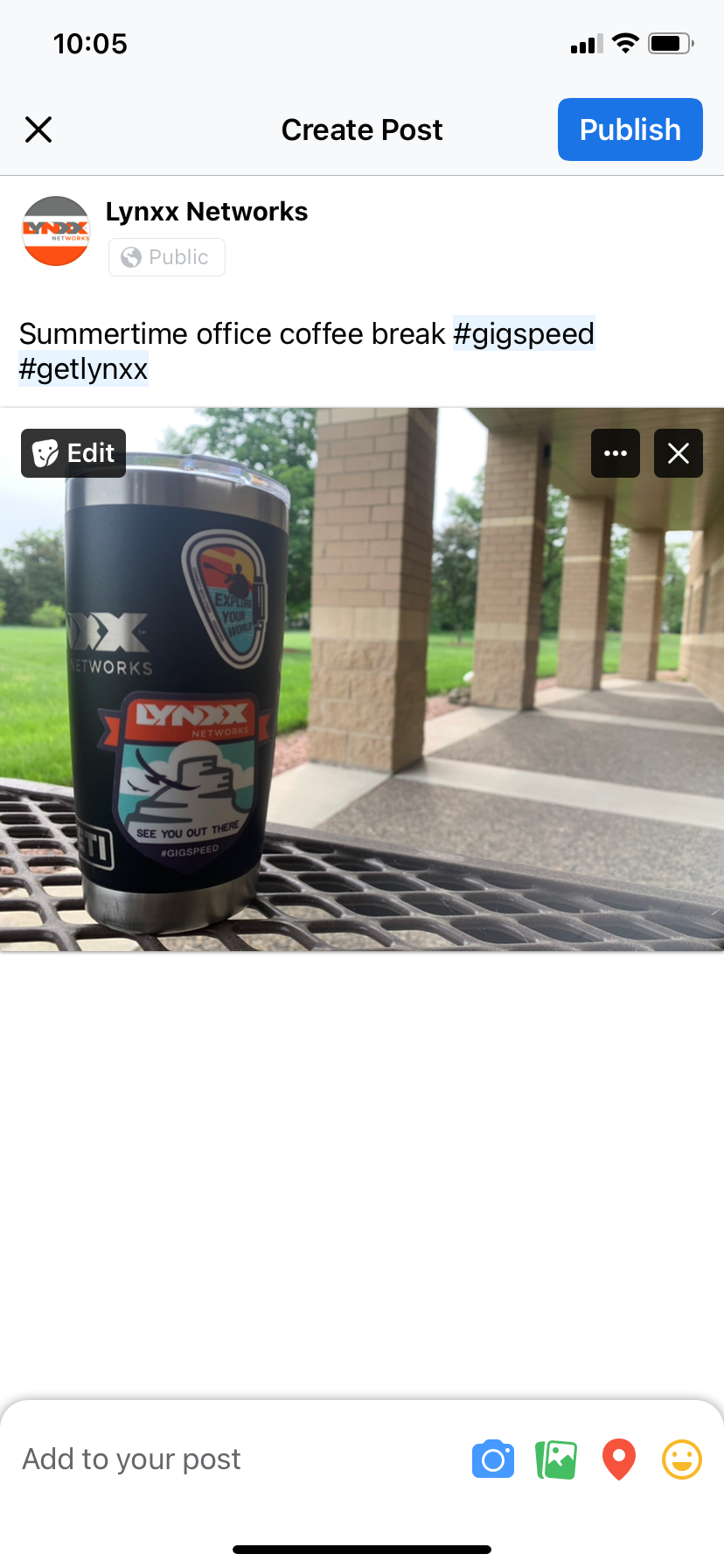 HOW DOES LYNXX STREAMING TV
COMPARE TO THE COMPETITION?
We took a look at some of the top streaming TV apps and how they compared to our own Streaming TV offering. Take a look at the chart below to find out what option could work best for you and your household.